Our people
After a tragic accident, healing the invisible wounds
How Geralyn Ritter, MSD SVP and appointed head of external affairs and corporate governance, Organon & Co., learned that good care is about more than medicine
When Geralyn Ritter was released from the hospital after suffering near-fatal injuries in a horrific train crash, she thought the worst part of the ordeal was behind her.
"The doctors said it was a miracle I wasn't paralyzed and didn't have a major brain injury," says Geralyn, whose bones were shattered and organs severely damaged in the crash of an Amtrak passenger train in Philadelphia on May 12, 2015.
When she finally returned home, cheered on by a crowd of well-wishers, she and her family rejoiced. "What I didn't know was that in some ways, the hard part was really just beginning."
The mind-body connection
As weeks turned into months filled with more surgeries, endless doctor visits, and crushing pain, Geralyn fell into a deep depression. Still, she balked when her trauma surgeon suggested she consider counseling for PTSD.
"I knew I was unhappy, but it didn't occur to me to think about it," Geralyn recalls. "My physical injuries were so overwhelming that it was simply the furthest thing from my mind."
But she soon realized she needed help. Haunted by the "seeming randomness" of her survival, and plagued by sleeplessness, irritability and outbursts of tears, Geralyn eventually began seeing a psychiatrist experienced in trauma recovery.
"I started to understand the profound connection between our physical bodies and our mental health," she says.
In addition to therapy, Geralyn used tools like meditation, breathing exercises and yoga. "It gave me back a sense of control over my body and my thoughts. It helped to control the pain, and I started to feel a little more like me."
Compassion matters
Later, Geralyn returned to the hospital to thank the doctors and nurses who saved her life and to share her experiences as a patient. She thanked them not only for their life-saving efforts, but for the compassionate care she received at a time when she was helpless, confused, and afraid.
"The nurses who were at my side every day, every night, holding my hand… to this day, words fail me in the appreciation I have for them," Geralyn says. "And not just for the compassion they showed to me, but the compassion they showed to my family.
"There was always a nurse—not just taking care of me, but with an arm around my mother, explaining to my children what was happening and why it was going to be OK, and answering my husband's questions."
A company that cares
Throughout her long recovery, Geralyn was overwhelmed by the kindness of our company's employees, from close colleagues to people she'd never met, hundreds of whom reached out to offer support and encouragement.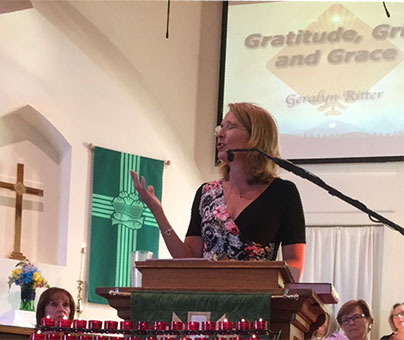 "It really brought home to me the character of our company," she says. "We truly are a company that cares. And I felt that in every bone in my body."
A little more than two years after the crash, Geralyn returned to work. "I'm proud to be back at work at a job that I love," she says. "I take joy in the people around me, and I take joy in reaching out to others that might find themselves in a situation like me—on an ordinary day, waking up to something that changes their lives and turns everything they knew upside down. And, to the extent I can be a resource for them, as so many were for me… that makes me happy."