Innovation
Breaking new ground in Singapore
New facilities and job opportunities represent our dedication to the region and its people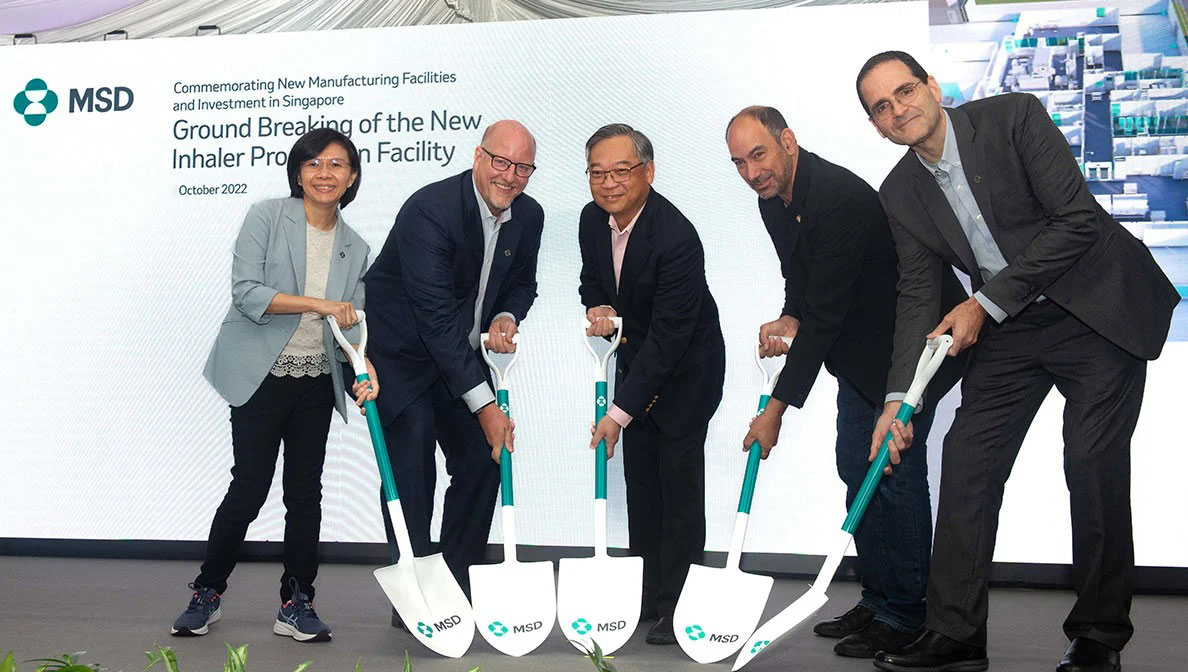 With nearly 30 years in Singapore, we continue to build on our promise to expand operations throughout the nation.
As part of a commitment we made in 2020 to invest up to $500 million in Singapore over five years, we recently opened a new secondary packaging facility for vaccines and biologics and broke ground on an inhaler production facility – set to begin operations in 2026. These facilities represent a critical part of our global supply network, helping reach patients and customers across the Asia Pacific region.
Singapore Minister for Trade and Industry Gan Kim Yong joined our chief executive officer and president, Rob Davis, executive vice president and chief financial officer, Caroline Litchfield, executive vice president and general counsel, Jennifer Zachary, and other company leaders at the opening.
"At our company, we're proud to use the power of leading-edge science to help save and improve lives around the world," Davis said. "Singapore's growing position as a regional hub for the biopharmaceutical industry and high-skilled manufacturing provides an ideal environment to further our purpose. We're helping to play a critical role in building Singapore's resilience to future health challenges and serving the health care needs of Southeast Asia and the broader Asia region."
Our current workforce on the island consists of over 1,700 people. We aim to hire an additional 100 colleagues, many in positions requiring advanced manufacturing and digital skills, to support the new facilities and multi-year investment plan.
"Along with developing a highly skilled workforce, we continue to advance Singapore's growing position as a regional biopharmaceutical hub and supporting its progressive agenda in building technologically advanced facilities," said Fernando Otero, associate vice president for our company's manufacturing division in Singapore.
Our company's hub in Singapore brings together many of our business divisions, including manufacturing, research & development (R&D), Human Health, Animal Health, IT and our Asia Pacific regional headquarters.
"The launch of our new facilities highlights the value that biopharmaceutical innovation brings to Singapore, contributing to the health and well-being of both the nation and the region," said David Peacock, president of our company in Asia Pacific. "Locating key facilities for innovative medicines and vaccines in Singapore means that our company can bring these medical innovations to patients and consumers in Asia Pacific as quickly as possible."