Our people
Finding the courage to come out after 20 years of marriage
MSD executive Scott M. Wright shared his story of coming out in midlife — the response was overwhelming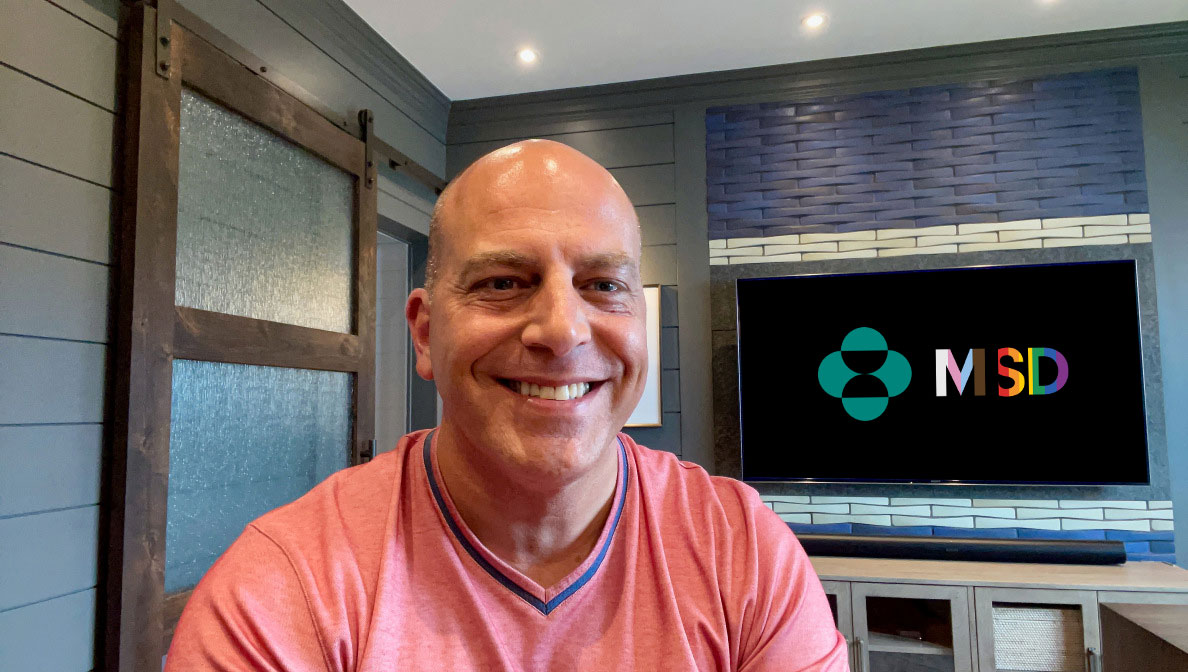 Scott Wright's coming out journey came full circle in July 2020 when he received an email from Judy Shepard.
The brutal murder in 1998 of Judy's son, Matthew Shepard, a gay college student, was a defining moment in Wright's life, given how deeply conflicted he was with his own identity at the time. It would take another 20 years for Wright to find the courage to accept himself.
Wright heard from Matthew's mother after he publicly shared his coming out story in 2020. It was an exchange that was surreal and deeply emotional. It also reaffirmed Wright's decision to share his voice to help pave the way for others to move beyond their fear and shame.
Suffering in silence
Recalling the television reports of Matthew's horrific murder, Wright says, "On one level, it was immensely tragic, and it frightened me that someone's life was taken for just being gay. I felt for him and his family. And then the second wave hit me — I couldn't ever talk about how much it deeply bothered me."
At the time, Wright was newly married to his wife, Cherryl. Although he "had some confusing feelings about men", Wright never doubted his love for her. The couple soon had a daughter, and life went on.
"We continued to have a great, loving relationship, but silently I suffered with tremendous conflict," says Wright, who despaired as the chasm widened between his true self and the life he'd built.
He watched as the LGBTQ+ movement gained momentum, building mainstream support and sparking landmark policy changes like the repeal of Don't Ask, Don't Tell and the Obergefell decision, which legalized same-sex marriage in the U.S.
As a MSD employee, he saw the company consistently champion diversity and inclusion, encouraging employees to "show up as their authentic selves." He envied people, both gay and straight, who felt the freedom to do that.
"I could never imagine what that would be like — to not constantly battle the fight within but be able to just relax, breathe and live a true life," Wright says.
Coming out to his wife
Wright was in his late 40s when he began coming to terms with his identity as a gay man. "You can't fight nature; it will always win. And I was exhausted from fighting," Wright says. By the beginning of 2019, after more than 20 years of marriage, he came out to his wife.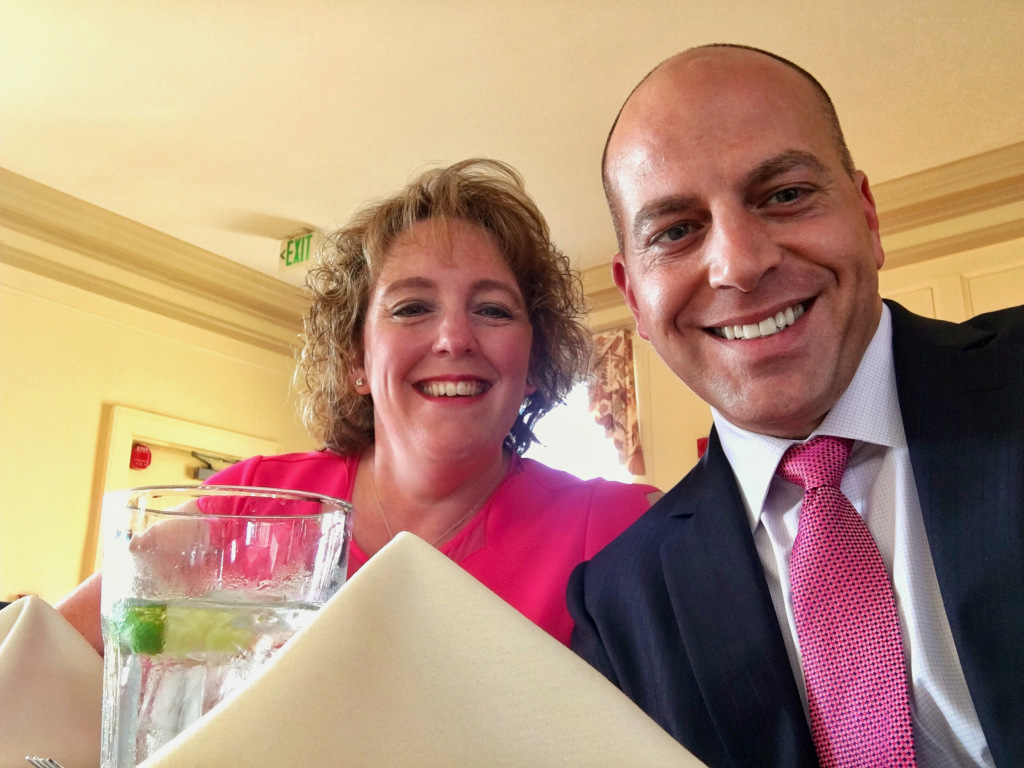 "It was not easy. It was actually the scariest thing I've ever done," he says. "The person who was the closest to me was the person I was potentially going to impact the most."
After the initial shock and some very heartfelt conversations, Cherryl ended up becoming one of Wright's biggest supporters and advocates. "We knew that we loved each other, and we were committed to finding a way to remain very connected in our lives," Wright says.
'You can just be you now'
Any fears he had about coming out to his co-workers were quickly put to rest.
"MSD was the first place I came out more fully," says Wright. "I've had so much support. Not only am I surviving, I'm thriving — I literally thought I would go to my grave in the closet," Wright says. "I come to work now just being me. That seems like such a simple thing, but when you've lived your entire life covering, where it's always on your mind — every interaction and conversation you have — it's tremendously draining. I don't have to do that anymore."
The positive experience he had coming out at work – along with the steadfast encouragement from Cherryl and his colleagues — fueled Wright to come out to more people, including his daughter, Abby, who was then a 20-year old college student.  Abby responded by saying, "Dad, I was honestly just waiting for you to tell me. You can just be you now."
Life after coming out
Wright came out "to the world" in 2020 by sharing his story on MSD.com. 
"Seeing it on the homepage of one of the world's largest pharmaceutical companies made our family realize, 'wow, it's REALLY out there,'" says Wright. "We had no idea what to expect."
The response has been overwhelmingly positive. Wright received nearly 150 emails from colleagues around the world who shared stories of family members and friends who were struggling to come out and how this story inspired them.
On social media, Wright's story got thousands of views and hundreds of comments expressing support.
"There were also some heart-wrenching stories," Wright says and pauses. "Which is why it's so important that I — and all of us in the LGBTQ+ community — continue to share our stories to keep paving the road for others."
Cherryl, Abby and Wright have grown even stronger as a family over the past couple of years.
"Not everything has been easy, but we have a strong foundation of love, and with a strong foundation, you can build anything on it. It's helped us not only navigate our way through this but also put us on a healthy path to redefining us, as a family, and that was unimaginable to me," says Wright. "I think it says a lot about the importance of not just love and respect but resiliency in relationships."
Coming full circle
While Wright plans for the future, he also thinks about the past.
"I only get the privilege of coming out because of the generations of people who came out before me — often risking or losing their lives," he says. "People like Matthew Shepard — to me and millions of others — are part of that history. When you come out, it's about owning your truth, but more importantly, it's about making it easier for the next person after you."
Wright's story eventually made its way to the board of the Matthew Shepard Foundation, whose mission is to amplify Matthew's story to inspire individuals, organizations and communities to embrace the dignity and equality of all people. That's when he heard from a board member, and then from Matthew's mother. In reflecting on Wright's story, Judy said:
"…it is a powerful and personal essay. It always makes me happy when someone can 'live their truth' with the support of those people who are important to them. I wish I could say it was always that way…"
She ended by stressing the importance of telling and sharing our stories: "When our personal stories are shared, we change hearts and minds. Thank you for being part of the movement. Your voice is welcome and needed."
Wright's story doesn't end here; in many ways, it's just beginning. In May 2022, the Matthew Shepard Foundation invited Wright to join a special executive advisory board focused on strengthening and growing the foundation's influence and impact throughout the LGBTQ community, its allies and many public/private partnerships.
"I'm incredibly honored to join this board. And, I'll continue telling my story and doing whatever I can to help change hearts and minds…so others can live their true lives."