Our people
Helping professionals return to the workforce after a career break
MSD is offering returnships for the untapped talent pool who decide to take career breaks
Giuliana Madden, a MSD senior scientist in engineering for the sterile liquid commercialization space, left our company when she started having kids and worried about being away from them all day.
"With them being so young — and with three — I felt it was important for me to stay at home," Madden says.
Madden decided to stop working when she was pregnant with her third and had a one- and three-year-old demanding her attention at home.
Eleven years later, and with her children in school full-time, Madden started contemplating a return back to work. But knowing she had a long gap in her resume weighed heavily on her mind as she prepared for the job search ahead.
"It was definitely very stressful. I didn't know what type of position I would even be able to get."
Giuliana Madden
Senior scientist
Unfortunately, some hiring managers tend to look at long employment gaps in a resume like Madden's as a red flag. If left unexplained, these gaps can potentially carry negative implications, even if the career break is the result of a noble decision — like taking on full-time parental responsibilities, caring for a sick or elderly family member or serving your country.
Re-inventing your career
At our company, we're trying to remove the stigma that often comes with a break in one's career.
To help women re-enter the workforce, we partnered with the Society for Women Engineers and iReLaunch to create the Re-invent program, a six-month paid returnship for experienced professionals with engineering backgrounds. Returnships are essentially full-time internships for adults who have taken time away from their careers and want to re-enter the workforce.
"Returners bring a mature perspective to the workplace, oftentimes with accelerated levels of energy and enthusiasm," says Tiffany Kilgore, global talent acquisition director. "We've learned from our returners that there is a feeling that while their time away was purposeful and filled with meaning, there is still more to be done in their careers."
Returning professional internships have been quietly emerging across different industries — and not a moment too soon. Some financial experts say the global recession related to the COVID-19 pandemic has caused a "she-session," a term used to describe the troubling number of women who've left the workforce during the pandemic, which some reports estimate to be around 2.3 million.
Our intent-to-hire Re-invent program will involve project work, cross-functional exposure, mentorship, personal development and coaching.
"We were very intentional when planning the program to ensure participants have a well-rounded experience that sets them up for success moving forward," says Kilgore.
A path forward
While there's more work to be done to minimize stigma attached to career breaks, progress has been made with returnships and other milestones.
LinkedIn for example, now allows users to choose 'stay-at-home mom,' 'stay-at-home dad' or 'stay-at-home parent' as their job titles.
Maria Kanarr decided to become a stay-at-home mom for seven years before she came back to work for our company.
Today, she's a senior specialist in barrier operations and calls her time away from work an "amazing opportunity."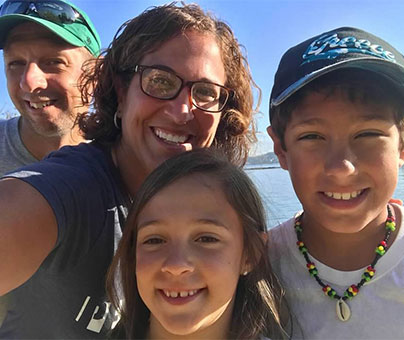 "I was given the chance to show my kids you can have it all, and that doesn't always mean the straight and narrow path. Your path is defined by your needs, and if you're fortunate, you find a company who fosters that."
Maria Kanarr
Senior specialist