Innovation
MSD tackles epidemics and pandemics: an illustrated history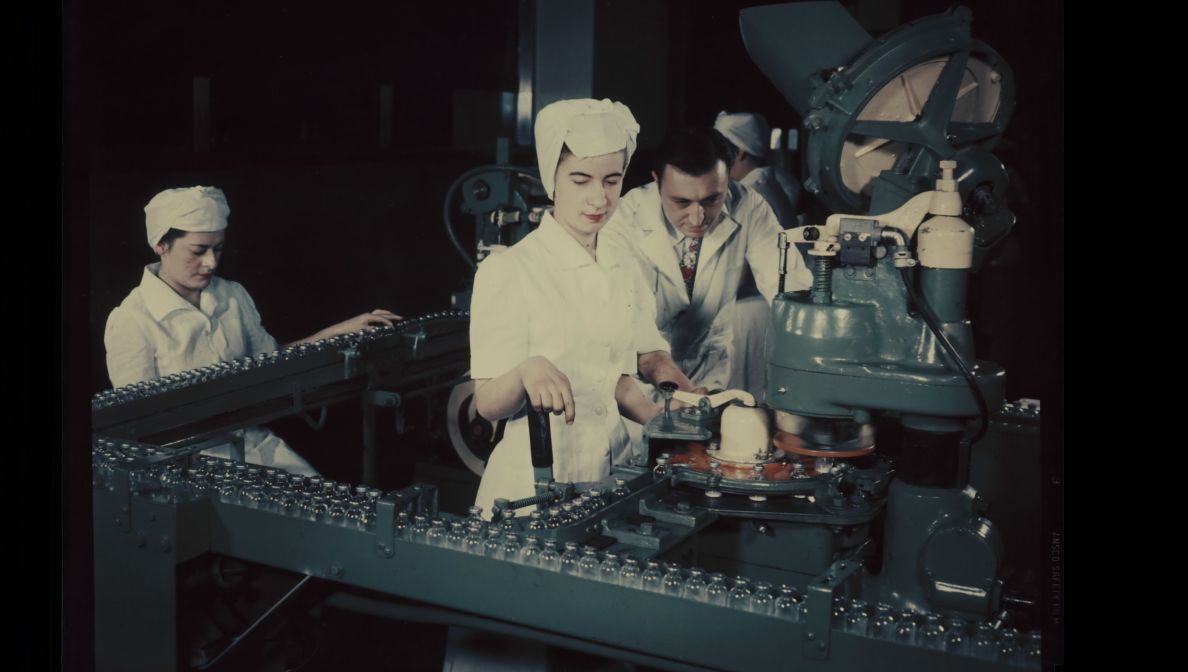 MSD has developed medicines and vaccines and made important contributions to fighting pandemics for more than 125 years.
Here is a spotlight on our efforts….
In January 1925, a desperate telegram went out from the icebound community of Nome, Alaska: "An epidemic of diphtheria is almost inevitable here. I am in urgent need of one million units of diphtheria antitoxin." The local supply of diphtheria antitoxin had run out the previous summer, and as a result, children had now died.

Arctic weather prevented delivery of the antitoxin by air, so relay teams of sled dogs and their "mushers" raced against the clock to deliver 300,000 units of the antitoxin produced by MSD legacy company H.K. Mulford. They completed the 674-mile journey in five days and seven hours despite whiteout conditions and temperatures of 50 degrees below zero or lower and saved untold lives. The path of this miraculous odyssey later became known as the Iditarod Trail.

MSD employees in 1955 test the legendary Salk polio vaccine. Technicians peer through microscopes and study samples to make sure all three strains of the virus are present and inactivated. With the U.S. seeing its worst polio outbreaks in 1949 and 1952, a vaccine was direly needed. A rise in polio cases to an average of 35,000 a year even led to quarantines and travel restrictions. Then Dr. Jonas Salk discovered the first effective polio vaccine.

A MSD employee in 1955 sterilizes glassware to be used to manufacture the Salk polio vaccine. MSD played a major role in the crisis. We partnered with the National Institutes of Health, banded together with five other pharmaceutical companies and invested heavily in our own R&D infrastructure to produce the vaccine. Thanks to such heroic actions, the number of polio cases in the U.S. between 1952 and 1960 declined from 52,879 to 3,190. Today, the U.S. is polio-free.

After a flu epidemic broke out in 1957, Dr. Maurice Hilleman discovered that the H1N1 strain responsible for the 1918 flu epidemic had evolved into the equally threatening H2N2. MSD was among the first companies to produce a vaccine, ultimately manufacturing one-third of all the vaccines made for the pandemic. A pioneering virologist and vaccinologist, Dr. Hilleman went on to develop vaccines for measles, mumps, rubella, chicken pox, hepatitis A and B, meningococcal and pneumococcal diseases.

A 1957 newspaper article reports on MSD giving free vaccines against the H2N2 epidemic to its own 3,300 employees at a plant in Rahway, New Jersey, to protect them so they could continue to work and make antibiotics used in fighting the flu. We were among six pharmaceutical companies that developed the vaccine based on samples provided by the U.S. Public Health Service.

A new influenza strain, which started in Hong Kong, resulted in 100,000 deaths in the U.S. and one million worldwide. MSD plunged into a round-the-clock production schedule to combat the pandemic and created a licensed H3N2 vaccine. The company made more than half of all H3N2 vaccines in the U.S.

In 1968, a helicopter from the New York City Police Department lands at MSD's West Point, Pennsylvania, facility to pick up 20,000 doses of the H3N2 vaccine. The chopper airlifted the emergency shipment to New York City, which was then in a declared "state of peril." MSD distinguished itself as the first company in the U.S. to distribute the vaccine. It eventually made more than half of all the H3N2 vaccines manufactured domestically.

MSD developed historic vaccines for measles, mumps and rubella. In 1963, the company introduced the first available live-virus measles vaccine. In 1967, courtesy of a virus strain Dr. Hilleman obtained from his own daughter, MSD developed a mumps vaccine. After a rubella epidemic that infected 12.5 million people in the U.S., MSD introduced the first vaccine against rubella in 1969. In 1971, MSD distributed a vaccine that prevented all three conditions — measles, mumps and rubella – with a single shot.

A MSD scientist in 1989 studies the structure of the HIV-1 protease. By 1993, we were undertaking the biggest research program in our history, deploying more scientists to investigate AIDS than any other disease and testing tens of thousands of compounds. In 1996, we developed one of the first protease inhibitors.

In 1995, Linda Distlerath reads some of the letters sent to her from thousands of AIDs patients and activists urging MSD to produce a treatment for the disease quickly. She served as executive director, Public Policy and MSD Research Laboratories Public Affairs.

The 2014 and 2018 Ebola epidemics in West Africa were among the deadliest outbreaks since the virus was identified 40 years earlier. Through a partnership, MSD researched, developed, manufactured and distributed an Ebola vaccine, which became the first Ebola vaccine approved by the FDA. As of December 2019, MSD had donated nearly 275,000 doses of the vaccine to the Democratic Republic of the Congo.