Our people
Photos of resilience: How we're coping during COVID-19
As the SARS-CoV-2 pandemic has transformed life around the globe, our colleagues have come together to show their resilience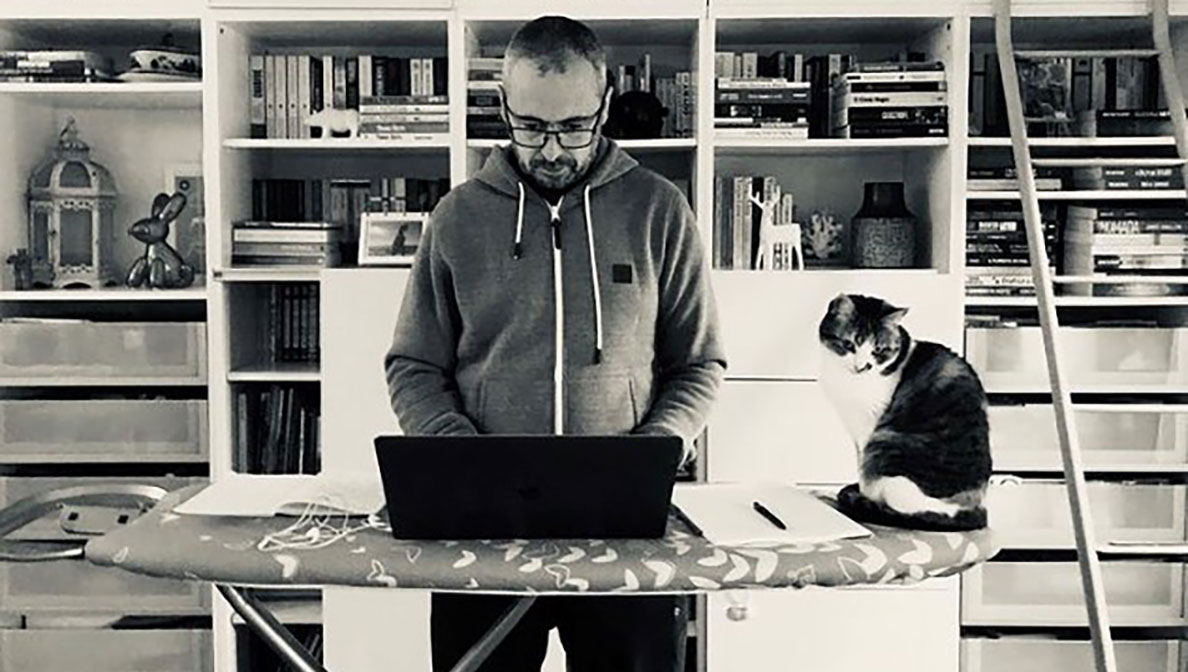 It's safe to say that 2020 didn't turn out to be the year anyone was expecting, and our professional and personal lives have seen unprecedented upheaval due to COVID-19.
Throughout the pandemic, our colleagues around the world have found news ways of working and ways to cope. As these candid photos and heartfelt messages show, we are a resilient company, capable of tackling any new obstacle or challenge.
Luis Pedro da Silva, associate director, policy and communication, Portugal
"I believe this image reflects the adaptation we all have made in our lives due to COVID-19. The lockdown has brought our work home and vice versa. But again, we will strive using the best tools we have to cope with this challenge. We will win this!"
Yisel Polanco, senior customer representative, sales, Puerto Rico
"My daughter celebrated her quinceañera, a very special occasion for a teenage girl, and we celebrated it virtually with our family from different parts of the world. She was happy and thankful. It does not matter the situation or reality — we stay positive. In addition, my son is going to graduate from the eighth grade, and while he may not get to have a ceremony, he is happy to learn all the lessons of virtual education and to be at home taking care of his family and himself."
Parul Upadhya, director, quality assurance, U.S.
"We have lost a few members of our family this year — some due to COVID-19 and some due to their age, but it has been a loss. In this photo are my in-laws and my aunt. My in-laws stayed with us for more than 20 years, and my kids who grew up with them in the house miss them the most. I have heard people say it was their age and that they lived their life to the fullest, but it is sad to die alone without your family around. We miss them a lot every day, especially during special days or special events. To cope with the grief and loss, we got a puppy named Luna. She has given us lots of love and helped us through the grieving process. I hope to see the end of the pandemic and to be able to look back on it in a few years as a chance to learn patience and resilience."
Maria Yepes, safety data specialist/record specialist, GPVCM, Colombia
"Do you remember your plans for 2020? My mind is still in March, but at the same time, I see how this year passed by so fast, faster than any other… it's almost Christmas! I haven't been to the office since the pandemic began, and I don't use all my clothes or shoes. There have been months when the greatest adventure was going to the supermarket or taking out the garbage. My flat's hall became my training center to keep me in shape. I cut my hair, a DIY style. I got closer with my kitchen and discovered new recipes. I discovered a new way of enjoying life, inside my apartment and alone."
"This year, when all around the world we are facing the same situation for the first time, taught me many things. I saw more empathy among people; I saw nature thriving; I learned to be even more thankful for the simplest things and that we cannot take anything for granted. I'm more patient, and I enjoy being with my family and friends more than ever before."
Elizabeth Campbell, senior associate, administrative services, U.K.
"I have learned how to make bread and have been enjoying cooking from fresh ingredients. I find it has helped me to relax — music on and just baking or cooking."
Michael Levey, director, global communications, U.S.
"Earlier this year, I organized a virtual workout for me and my colleagues. With the assistance of a MSD virtual fitness instructor, we held 30-minute live virtual workouts — via video calls — that included light stretches, physical and breathing exercises and meditation. The workouts were a great reminder to find creative ways to support each other. There were lots of laughs, and it was a great way for everyone to clear their heads before a busy day."