Our people
"Pride and honor": Meet the Army microbiologist and MSD employee fighting COVID-19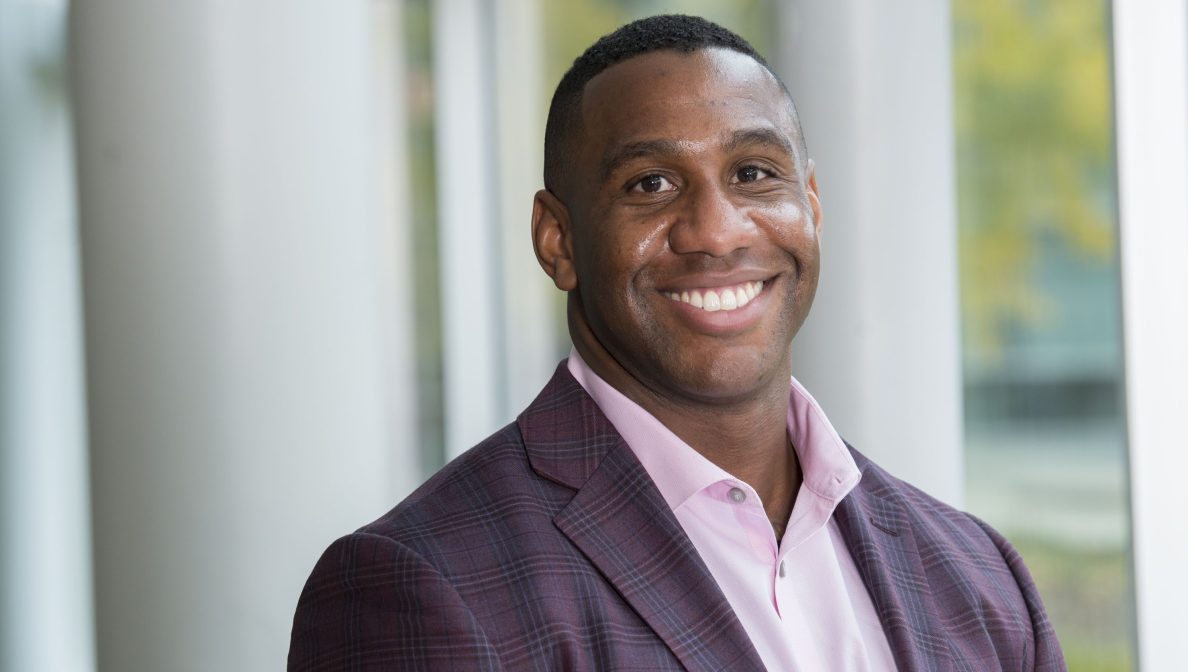 Kurtis Oakley, associate director, regulatory affairs, was in the car with his wife when he got a call in March from the military asking if he wanted to take on "the opportunity of a lifetime": joining the White House coronavirus task force.
"I didn't even ask how long it was or where it was," he says. "I got off the phone and my wife said, 'You're going to go, huh? I think you have to. Since I've known you, since I met you, this is all you've talked about – this is what made you go into the sciences and made you sign up.' So that was it."
It was what made him go into the sciences and become a microbiologist. Kurtis found his calling after watching a team of scientists find a cure for a dangerous virus in the film "Outbreak" when he was in high school. "That moved me, and from watching that I said, 'I'm going to be a microbiologist,'" he says. "And this mission that gave me strength and woke me up every morning to get where I am is literally happening now."
In the months since that phone call, Kurtis' life has been a whirlwind. Kurtis was deployed in April as a COVID-19 microbiological operations officer with the U.S. Army Corps of Engineers (USACE) White House task force unit. Though he was hesitant to spend months away from his family, Kurtis made the tough decision to move from Pennsylvania to Washington D.C. His primary task: increasing hospital bed capacity
"There are anxieties – I'm away from my family. How will they get groceries? I have the normal fears that most people have," he says. "But if we don't control this, it's going to spin out of control and keep spreading. There's pride and honor that comes with knowing that when I sit in that office with my team, I'll be able to assist."
Kurtis says even while on military leave, MSD has been there for him. In April, Kurtis' mother fell ill and was hospitalized. He says the support he received from MSD's Veterans Employee Business Resource Group helped him stay calm and resilient. Kurtis' mother has since recovered, and Kurtis has been able to stay fully focused on his mission.
During Kurtis' mission so far, the USACE worked with Federal Emergency Management Agency, the U.S. Health and Human Services (HHS) and local officials in Washington, D.C., to convert the Walter E. Washington Convention Center into a temporary hospital in less than 30 days.
"A lot of people, when they think of engineering, think of building a house or a structure, but a lot of times it's something that's intangible, like a network or supply chain, to make something happen – in this case, the USACE was working to create additional hospital space," Kurtis explains.
Kurtis feels that his work at MSD has prepared him well – and vice versa.
Kurtis recounts a task force meeting he attended to review previous projects and recommend best practices on building alternate care facilities.
"Like I would at MSD, I listened, I guided and I asked questions," he explains. "From that meeting, we were able to find out what our biggest challenge was, and we utilized that lesson learned within days." Kurtis' work in the USACE is all about agility.
"We're sprinting and building massive sites in 22 days, and while sprinting, we're looking back in the rearview mirror and putting new practices in our toolkit and adjusting," he says. "We're always fine-tuning relationships and communicating efficiently and effectively. We find gaps, expose those gaps and fill the gaps."