Innovation
Taking the fight against COVID-19 on the road
How a 39-foot Winnebago is helping to raise awareness about clinical trials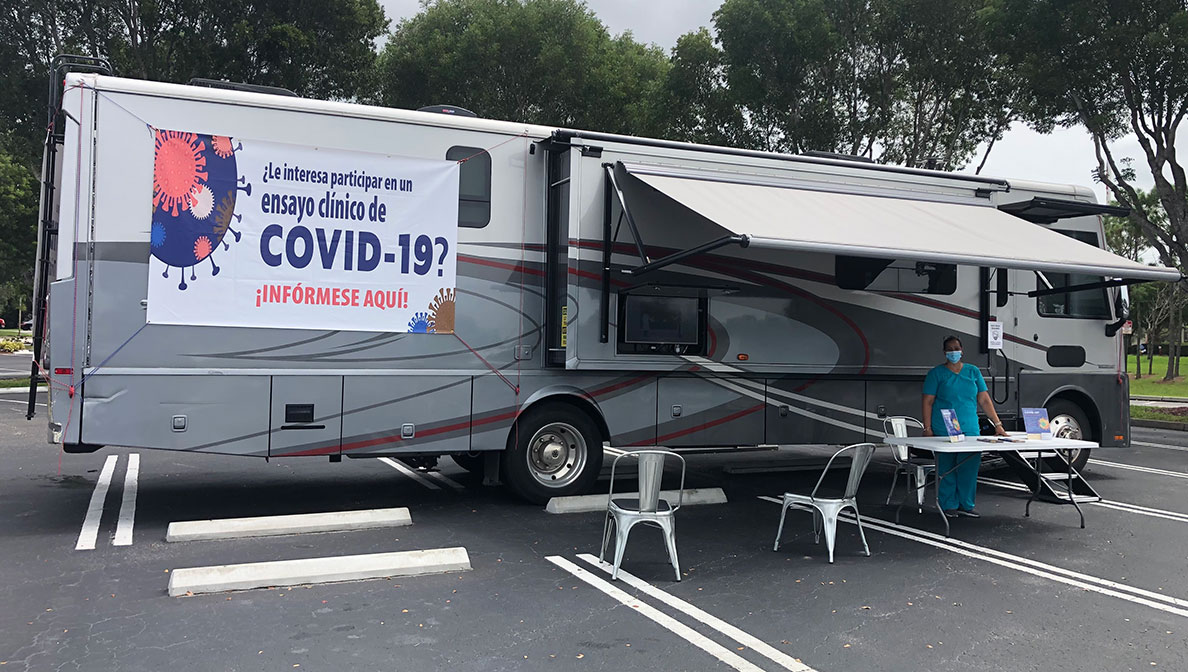 As a data scientist, Kai Bode never imagined that his job would involve driving an RV. But he recently did just that as part a new initiative to spread awareness about clinical trials and recruit participants for our study of a potential coronavirus treatment.
"The idea was to really engage in communities and get the word out to people who may not otherwise have access to clinical trials, or even know what a clinical trial is."
Kai Bode
Director of digital innovation and patient strategy
No ordinary RV, the 39-foot Winnebago — officially known as the iLab53 — is a mobile clinical research space outfitted with medical-grade equipment and a modular interior. Bode created and designed the iLab53 as a self-contained unit that could be set up anywhere in the world and customized for a variety of purposes, from obtaining laboratory specimens to conducting focus groups.
The iLab53 was on its first official outing, a Parkinson's study in New York City, when Susan Manoff, executive director of patient innovation and engagement, saw its potential to support our COVID-19 treatment trial.
"The iLab53 helped us solve the problem of how to engage with people at COVID testing centers, so we could present this clinical trial as an option at a moment that is relevant to them," says executive director of clinical research Lilith Hayakawa Mist, who led the cross-functional team that turned the iLab53 concept into reality.
On a mission
Because low awareness of clinical trials is one of the biggest barriers to enrollment, the team focused on using the iLab53 primarily for community outreach. After reviewing data on COVID-19 rates, demographics and other factors, they decided to send the iLab53 to two cities in Florida, where cases are spiking to record highs and multiple testing centers are located near study sites where they could refer prospective trial participants.
Using the iLab53 for a clinical trial was a brand-new way of working, so there was a lot to figure out — from developing infection-control procedures to where to park the unit in order to engage the most potential participants.
The initiative came together in a matter of weeks, thanks to an all-hands-on-deck collaboration across several departments and external partners.
"Everyone we asked for help worked with such amazing speed and enthusiasm — always with the patient, and the pandemic, in mind."
Jill Ryan
Clinical research director, who oversees the U.S. implementation of COVID-19 trials
On the road
In mid-August, Bode and his team drove the mobile unit to Naples, Florida, for its first stop: a parking lot outside a pharmacy and grocery store. From there, the iLab53 moved to a major testing center in the Little Havana neighborhood of Miami, where it is scheduled to stay through October.
The iLab53 beckons to passersby with banners in both English and Spanish. Brochures are displayed on a table under the RV's awning, educational videos play on TV screens, and bilingual staff stand by, ready to welcome visitors and answer questions about clinical trials and the COVID-19 study.
During its first two weeks in the field, more than 150 people stopped by the iLab53, and most left knowing more about clinical trials than they did before their visit. Those who were interested in participating were pre-screened on the spot, and people who met criteria for enrollment were referred to a local research site.
"This shows that people are interested in learning about clinical trials, even if they're not eligible for this particular study, and I think that's great news," says Ryan.
Bringing trials to where people are
In mid-September, the project achieved a major milestone when the study enrolled its first iLab53-referred patient, confirming the mobile unit as a proven tactic for recruiting clinical trial participants. The team is encouraged by the response and excited about its potential for future projects, including further COVID-19 trials as well as studies in other therapeutic areas.
Perhaps most exciting of all is the iLab53's ability to help our company reach patients from diverse backgrounds, especially those who are typically underrepresented in clinical trials.
"It's important to make trials accessible and health literate," says Manoff. "Bringing mobile units with diverse staff into communities can help us engage in culturally appropriate ways and build trust."