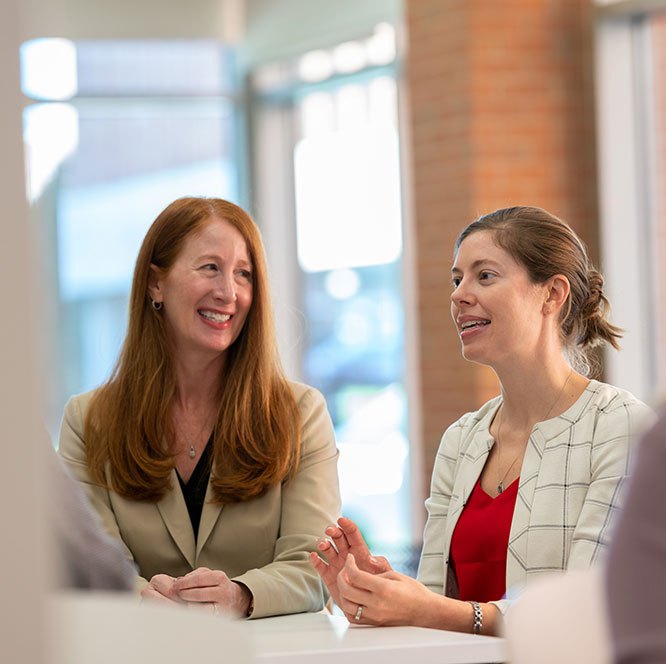 Transparency disclosures
We aspire to be transparent about how we operate to earn the trust and confidence of our customers and other stakeholders.
We proactively provide nonproprietary information about our business
We disclose information through a variety of mechanisms, including our financial disclosures, our annual Impact Report, and participation in voluntary efforts such as CDP (formerly the Carbon Disclosure Project), as well as through the media and through one-on-one stakeholder discussions. As part of this commitment to increasing transparency, we disclose information in this corporate responsibility report in the following areas: CDP, Clinical Trials, Corporate Political Advocacy and Contributions, Employee Diversity, Grants to Medical, Scientific and Patient Organizations, Payments to Health Care Professionals, Philanthropic Grants and Contributions, and Post-Marketing Requirements.
CDP
CDP is an independent not-for-profit organization working to drive greenhouse gas (GHG) emissions reduction and sustainable water use by businesses and cities.
CDP works with investors globally to advance the investment opportunities and reduce the risks posed by climate change by asking almost 6,000 of the world's largest companies to report on their climate strategies, GHG emissions and energy use in the standardized Investor CDP format. We have been disclosing climate information via the CDP for a number of years, and more recently have participated in both its Water and Supply Chain disclosures.
Corporate political advocacy and contributions
Our company is committed to participating constructively and responsibly in the political process. To improve access to information about our advocacy activities, we disclose our costs associated with lobbying in the European Union and the U.S.
Where permitted by law in the U.S., Canada and Australia, the company provides corporate political contributions, primarily to the electoral campaigns of individual candidates.
To improve access to information about our corporate political and Political Action Committee (PAC) contributions in the U.S., our company semiannually posts our contributions, categorized by state, candidate and amount. We post any contributions to Australia and Canada annually.
We also disclose a list of industry and trade groups of which we are members, and our dues (dues that are greater than $25,000), to U.S. trade associations that are used for political purposes. We encourage all trade associations to which we belong to disclose publicly their political activities as well.
Employee diversity
Diversity and inclusion are integrated into our leadership model and are considered an essential leadership skill for all of our employees.
We were one of the first companies in the U.S. to begin disclosing our Equal Employment Opportunity (EEO) data, and we continue to do so annually.
EU REACH
We are committed to protecting the environment and complying with applicable hazardous substance regulations.
We track the material content of our products and make relevant information available to recipients and consumers as required by law, including information regarding compliance with the European Union's ("EU") Registration, Evaluation, Authorization and Restriction of Chemicals (REACH) Regulations (Regulation No 1907/2006), which address the production and use of chemical substances and their potential impacts on human health.
We believe that providing support through grants or donations to third-party medical, scientific and patient organizations is an important way to advance our mutual objectives to improve health and advance patient care.
We disclose grants of more than $500 provided by the company's Global Human Health division to organizations in support of independent, accredited educational programs for health care professionals, as well as grants to patient organizations and other medical education or scientific societies and organizations in the U.S., Europe, the Middle East, Africa and Canada.
We have robust standards and policies in place to ensure that our grants are intended for, and provided in support of, improving patient care, and are not promotional or likely to be perceived as being promotional in nature, or provided to induce or reward prescription of our products. Furthermore, any grant or donation must also be permitted by and aligned with local country laws and regulations.
We update grants to medical, scientific and patient organizations quarterly in the U.S., and annually in ex-U.S. jurisdictions.
The following three principles guide our approach to providing financial support to medical, scientific and patient organizations:
Independence: Our company respects the independence of medical, scientific and patient organizations and refrains from using our financial support to influence the policies of organizations or to promote specific medicines.
Transparency: Our company supports transparency of financial support provided to medical, scientific and patient organizations. We believe this is an important step in building public trust both in our company and in those to whom we provide support. Making our support public also enhances the visibility of our commitment to helping advance health and science.
Compliance with Local Laws: In providing financial support to medical, scientific and patient organizations, we comply with all relevant local laws and regulations.
As part of our commitment to these principles, we regularly review and update our Code of Conduct to reaffirm our mission and commitment to scientific excellence, ethics and integrity. These principles are also reflected in the company's corporate policies, procedures and guidelines, which all employees are responsible for understanding and applying appropriately.
Disclosure of grants to patient organizations has been mandatory in Europe since March 2009. However, in Europe, the Middle East and Africa, we voluntarily began disclosing financial support to patient organizations in 2008, and in Canada in 2009. In October 2009, in Europe, the Middle East, Africa and Canada, our company also began to disclose grants to other third-party organizations such as medical societies and scientific organizations. The information disclosed includes the organizations, the amounts received, the dates of payment and the projects for which the money was used. Disclosures include all donations and charitable contributions, grants, and membership fees to professional societies or other medical or scientific organizations.
2021 grants outside the United States
Payments to health care professionals
Europe
In 2016, we began disclosing payments to European-based health care professionals and health care organizations, in alignment with the disclosure code announced by the European Federation of Pharmaceutical Industries and Associations (EFPIA). Our company has been playing a supportive role in the improvement of transparency and adoption of the highest standards by the industry.
To view the disclosure reports published in Europe, click on the country links below:
To view payments to certain U.S. health care professionals, click on the link below:
Philanthropic grants and contributions
We report philanthropic grants and charitable contributions, including contributions made through the Office of Corporate Responsibility, our company's Foundation, U.S. Global Human Health, and the MSD for Mothers program.
All reports are intended for residents of the U.S. and Canada.