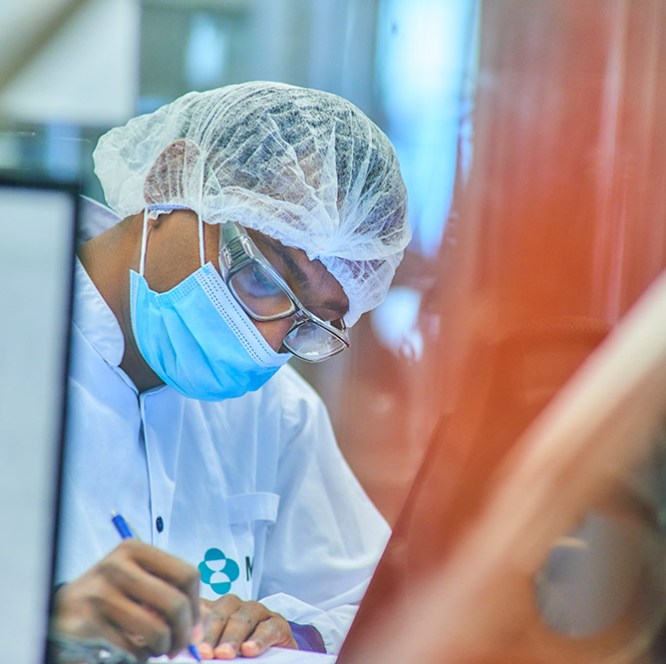 COVID-19
We've been committed to developing an effective response to the COVID-19 pandemic since it was first recognized. As a company with a long legacy of research in infectious disease, it is our responsibility to mobilize our scientific expertise and experience to help address the pandemic.
Advancing our investigational oral antiviral COVID-19 medicine
In collaboration with Ridgeback Biotherapeutics, we are advancing our research and development efforts for our investigational oral antiviral COVID-19 medicine. We're hopeful that we can make a meaningful impact on the pandemic through our programs.
We are working with regulatory authorities around the world to make our oral antiviral treatment available globally. We are also continuing our research and development efforts to investigate broader uses of our oral antiviral medicine.
Our commitment to access
To accelerate broad global access, our comprehensive supply and access approach includes investing at risk to produce millions of courses of therapy. We've spent the past year rapidly building our capacity to produce our investigational oral antiviral candidate — the largest capacity our manufacturing team has created in under 12 months in our company's history. We reached these milestones all while working through challenging pandemic restrictions such as limited site access, remote working and travel restrictions. We are utilizing our global network, which includes manufacturing sites in nine countries across three continents.
Additionally, we have entered into advance purchase and supply agreements with the governments of several countries worldwide, pending regulatory authorizations, and are currently in discussions with additional governments. We have signed voluntary license agreements with several established Indian generic manufacturers and the Medicines Patent Pool to facilitate the availability of generic versions of our medicine to more than 100 low- and middle-income countries.
Through these wide-ranging efforts, we expect that we and other manufacturers will be able to meet the global demand for our oral antiviral candidate.
Clinical trials
Our clinical development program includes several preclinical and early-phase studies, and two Phase 3 trials, one of which is currently evaluating our anti-viral in the prevention setting:
MOVe-AHEAD: evaluating our oral antiviral candidate for post-exposure prophylaxis in adults who reside in the same household as someone with symptomatic, laboratory-confirmed COVID-19 who has not had those signs and symptoms for more than five days.
Learn more about our COVID-19 research and find a clinical trial.
Recent Releases and Company Statements: