Sustainability
VIDEO: Climate change: How it's affecting your health and how businesses can help fight this global crisis
In this Teal Talks episode, we hear from leading environmental experts on the impacts of climate change on health and how businesses can make a difference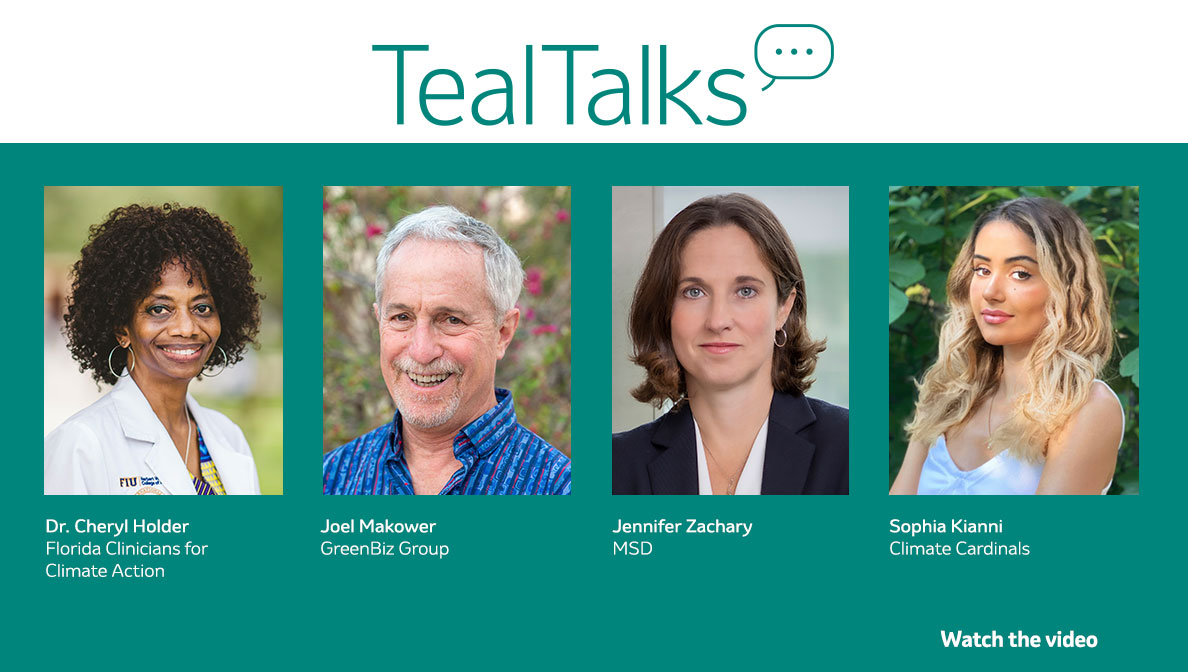 Climate change doesn't only affect the health of our planet — it also impacts the health of our people.
As we continue to see changes to our environment, like increased temperatures, extreme weather events, poor air quality and population displacement, it may be less obvious to some how these climate drivers impact human health. But research over the past several years has shed light on the many ways climate change is linked to adverse health outcomes around the world.
Climate drivers can lead to poor health outcomes such as respiratory disorders, heat-related morbidity and mortality, undernutrition due to food insecurity, an increase in infectious diseases and mental health issues.
"Think of your mental health when you're preparing for that weather emergency. When you've just withstood major flooding or survived the wildfires — the psychological impact of that disaster is real, and we sometimes don't understand the toll it takes," said Dr. Cheryl Holder, internist and co-chair of Florida Clinicians for Climate Action.
Dr. Holder along with Sophia Kianni, climate activist and founder of Climate Cardinals, and Joel Makower, co-founder of the GreenBiz Group, recently joined Jennifer Zachary, EVP and general counsel, MSD, for episode six of our Teal Talks series to discuss the effects of climate change on human health and the actions businesses can take to fight it.
Climate vulnerability
The health risks and impacts of climate change are not equally distributed across people, communities or nations.
A recent report from the U.S. Environmental Protection Agency found that racial and ethnic minorities were most likely to live in areas with the highest projected increases in morbidity and mortality due to climate-related changes in temperatures and air pollution.
Additionally, people with low socioeconomic status are more likely to be exposed to environmental hazards and have a more limited ability to prepare for or recover from extreme climate events.
"We have to look at race, not as a DNA issue, but as a societal issue that has identified a population that has been marginalized," said Dr. Holder. "But that's an opportunity to find solutions­. If you help this vulnerable population, you'll get immediate solutions that can be replicated across the world. It's important to help the community, but it's also an opportunity to benefit all of us by those interventions."
How businesses can help
While everyone can help limit climate change, businesses also have a moral obligation to take climate action.
"The first thing a company needs to do is understand its own impacts, and its own impacts aren't limited to the things inside of its four walls or fence line," said Makower. "It's their supply chain, it's the whole value chain, it's everything that happens from the raw materials to the end of the line."
Makower said the challenge many companies face in stepping up their environmental efforts boils down to one thing — change.
"Change is hard, and we're talking about massive changes, really reinventing and rebuilding our global economy over the coming decades," said Makower. "We have to transform that 'take, make and waste' linear supply chain and linear manufacturing processes to a much more circular one. And we have to transform off of fossil fuels into renewable and much healthier fuels for the world."
Younger generations at the forefront of change
More and more young people are joining the movement for positive climate change — and they're looking for their employers to do the same.
"In previous years, talking to my peers, there was a large inclination to work for some specific, big companies that they knew would pay well. But now, they're balancing that alongside an interest in social impact and making sure that they're working for companies that are morally aligned with them," said Kianni, who is also a member of the United Nations youth advisory group on climate change.
According to a 2022 survey from global consulting firm Deloitte, nearly two in five Gen Zers and millennials say they've rejected a job or assignment because it didn't align with their values.
When it comes to satisfaction in their organization's commitment to sustainability, 56% of Gen Zers and 48% of millennials said they're not at all satisfied.
"Young people are looking for how they can integrate sustainability into every facet of their lives and are starting to assess how sustainable a business is," said Kianni. "And with the prevalence of social media, for young people, it becomes much easier to discern which big brands and businesses are walking the walk when it comes to taking adequate climate action."
Our approach to environmental sustainability
As a global company, we recognize that our actions have a direct impact on our planet.
To help ensure a healthy and sustainable future for people and communities everywhere, we have environmental sustainability goals that focus on climate to meet and exceed the evolving expectations of our stakeholders and employees. In addition to achieving carbon neutrality for our operations by 2025, we're working toward:
Transitioning to renewables to meet our target of sourcing 100% of our purchased electricity from renewables by 2025.
Achieving a 46% reduction of operational greenhouse gas emissions (i.e., Scopes 1 & 2), by 2030, from a 2019 baseline.
Achieving a 30% reduction in our value chain (Scope 3) GHG emissions by 2030, from a 2019 baseline.