Our people
VIDEO: Aiming for health equity and business success
Empowered at work and in a leading fellowship program, Josette Gbemudu is determined to make a difference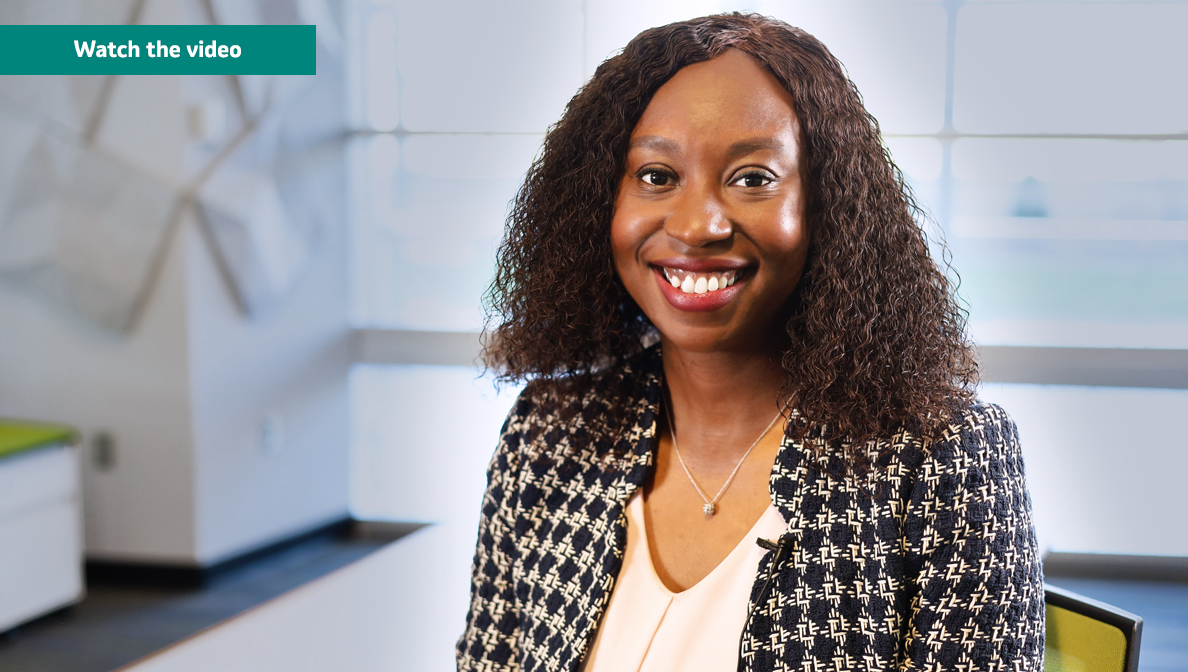 Josette Gbemudu is motivated to ensure everyone has the chance to be as healthy as possible.
As an executive director of health equity and social determinants of health, Gbemudu draws on her health policy and public health backgrounds — and her strong moral compass and lived experience.
"I grew up in Nigeria and witnessed the health care and public health system crumble," she said. "Populations that were already underserved faced even further barriers to care."
She takes pride in giving a voice to those who may not traditionally have had a seat at the table.
"The work we do is very exciting and important — it's challenging, it's not easy, there's a lot you have to do to navigate — but it's all fulfilling," she said.
A 'first mover'
Gbemudu was the first nominee from our company to participate in the Aspen Institute's First Movers Fellowship program.
The program equips leaders across industries to be intrapreneurs, meaning they work to advance societal value while also positioning their companies for sustained success.
"The global community is increasingly asking, and frankly, requiring, organizations to have a clear position around what they are doing to tackle the world's most pressing and imminent challenges."
"This fellowship has provided a tremendous opportunity to home in on what it takes to be a corporate social intrapreneur, and how to incorporate that intrapreneurial drive and mentality into my day-to-day," Gbemudu said.
At the nexus of health equity
Fellows are challenged to lead change and create new opportunities within their business to help redefine how business is done and how success is measured. At our company, Gbemudu and her colleagues are developing and implementing company-wide strategies to help close gaps in care for underserved populations.
"It's fantastic to be at the nexus of the efforts to embed a health equity mindset across our core business strategies and functions," Gbemudu said. "Big problems won't be solved overnight. But historically, we've risen to the challenge in addressing a lot of pressing public health issues. It's nterwoven into our DNA."