Sustainability
Magic Johnson shares what makes him work harder
The basketball legend and businessman talked DE&I, HIV advocacy and leadership in an inspiring visit to our global headquarters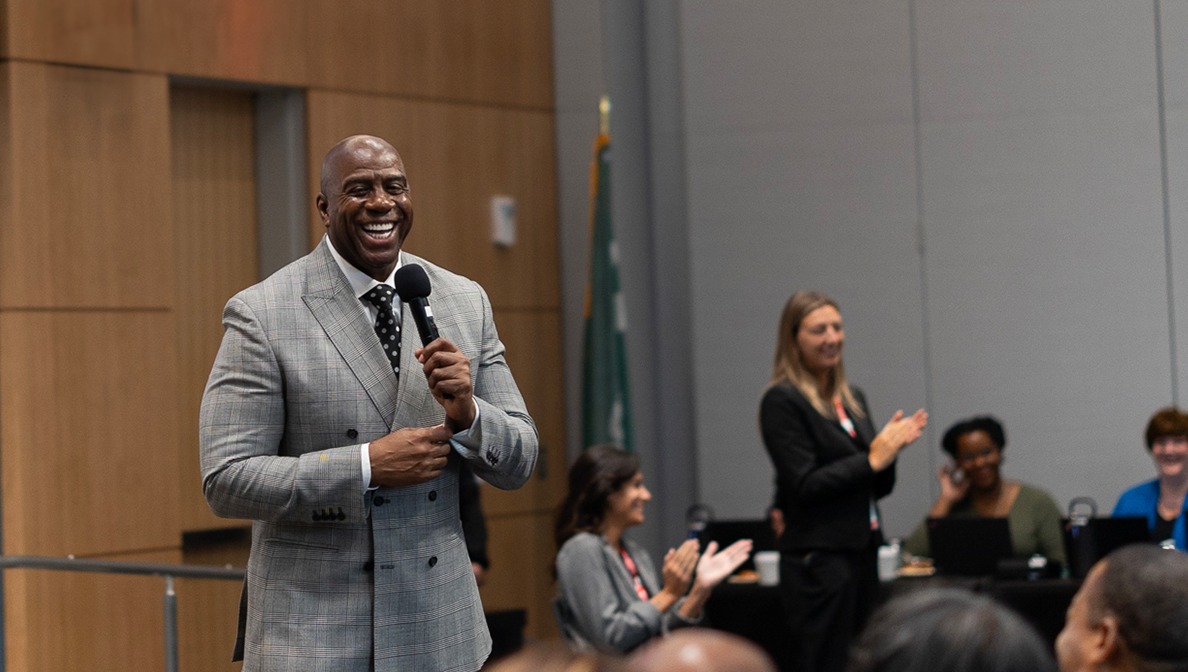 It was a full-circle moment for Dr. Yvonne Ukwu when she joined a recent fireside chat with sports legend Earvin "Magic" Johnson at MSD's Rahway, New Jersey, headquarters.
Ukwu was one of many who packed the room as Johnson shared stories from both his career and personal life, ranging from being a leader on the court and an early HIV/AIDS activist to defying expectations with a pivot from basketball to business.
"I like when someone tells me no. It makes me work harder," said Johnson. "They told me there's no way at 6'9" that I could play point guard in college or the NBA. I did. My own teammates told me that I could not be a businessman. Here I am."
"When someone tells me no, I want to prove to them that yes I can — and I just go to work."
His words hit home for Ukwu, an associate principal scientist at MSD. Her mother was our company's regulatory liaison to the U.S. Food and Drug Administration during the approval of our first HIV treatment in 1996, and today Ukwu works with our HIV team, following in her mom's footsteps.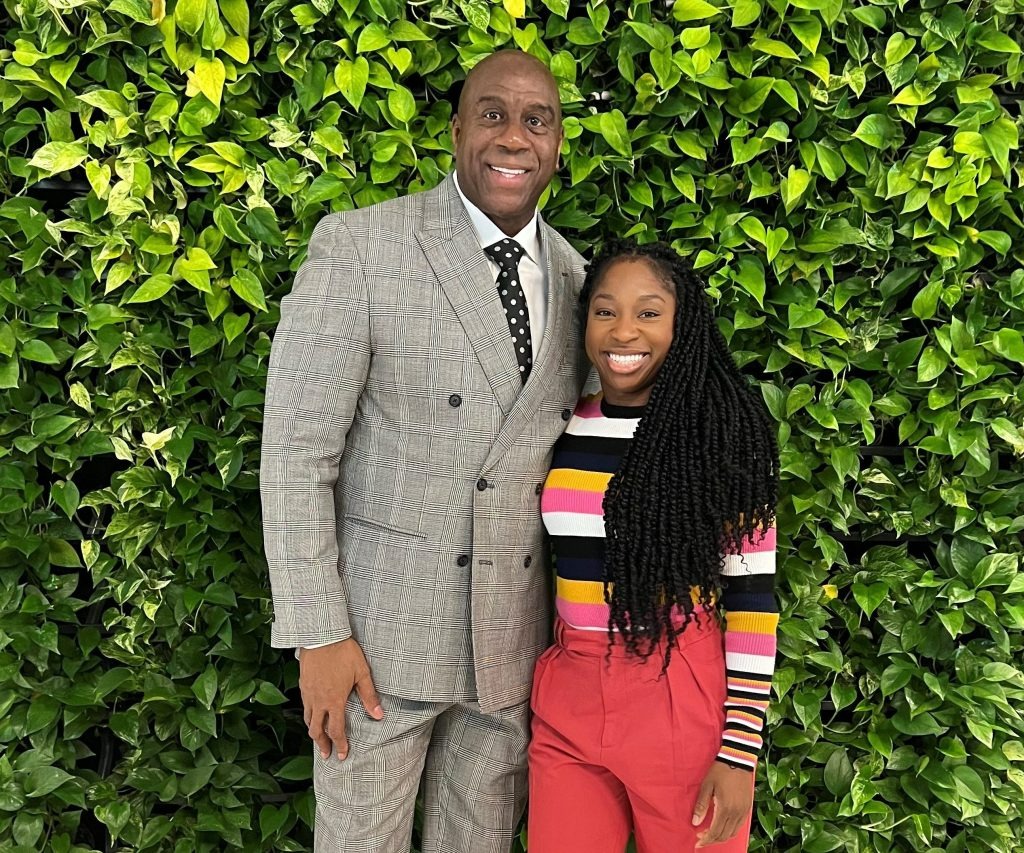 "The messages he shared speak to both our company's longstanding commitment to the HIV space and our support of diversity, equity and inclusion to create opportunities for physician women of color and other underrepresented people. In turn, this helps us better serve our patients and customers," said Ukwu. "As a family physician who's worked in various cities, I know how important it is to learn about and understand your patients and the community in order to provide appropriate and effective care."
(Photo: Magic Johnson and Dr. Yvonne Ukwu)
Understanding your customers
Johnson, whose visit helped celebrate the culmination of our company-wide Global Diversity & Inclusion Experience Month, shared several key messages that spoke directly to our company's purpose to save and improve lives.
According to Johnson, being on the ground and understanding your customers is a key to success. It helps you identify the best ways to serve them, communicate with them and meet their needs.
"You don't become a trusted brand and a trusted company if you don't over deliver," Johnson said.
As an HIV activist, Johnson visits urban neighborhoods and listens to people's questions and concerns and provides educational information about the virus. By sharing his story and openly discussing HIV, he also helps address the stigma often associated with it.
Investing in communities and building diverse teams
As chairman and CEO of SodexoMagic — MSD's integrated facilities management partner — Johnson is committed to uplifting communities, advocating for equity, ensuring inclusion and being a force for change. Our company has worked with diverse suppliers like SodexoMagic for nearly 40 years.
"Sourcing products and services from diverse suppliers creates jobs and increases economic opportunities for underrepresented communities," said Celeste Warren, VP of global diversity and inclusion. "To understand our diverse customers and to engage with them in pursuit of our work to help save and improve lives, we must have diverse perspectives at the table. That means embracing diversity within our own team and with our supplier partners."
Inspiring and energizing the crowd
Johnson's visit, which included many high-fives, chest bumps and selfies, and his messages energized and inspired the crowd. Some of our colleagues posted on their LinkedIn profiles:
"I've been a Lakers fan forever, an admirer of his consistent commitment to HIV awareness, and a student of his business acumen and success. Today he reiterated that diversity and inclusion is a business imperative that's been critical to his success."
Ainka Gozalez
Associate director, HIV marketing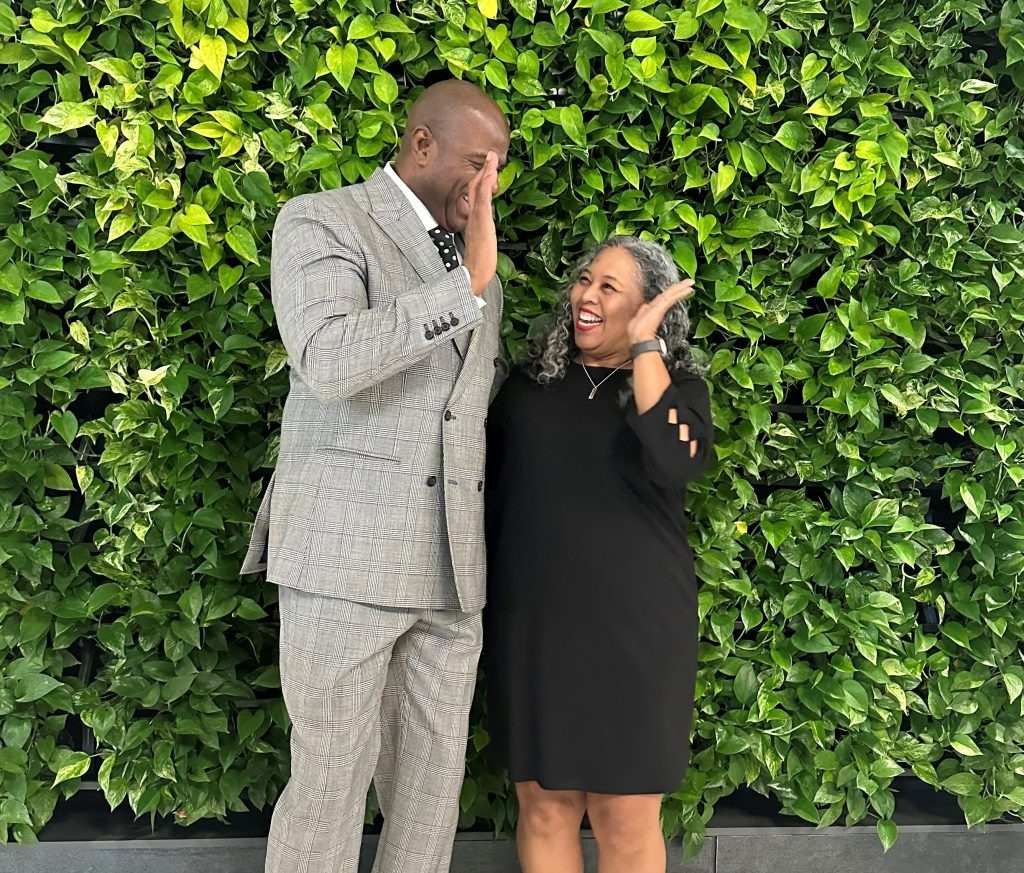 "They call him Magic. Unforgettable close to our GD&I Experience Month at MSD….From the hardwood to the boardroom, 'talent is never enough — the best performers are always the hardest workers.'"
Mike Diaz
Senior specialist, omnichannel content capabilities
"Magic Johnson inspired everyone at MSD today! Sharing his message of hard work, determination, and achieving goals in the face of adversity.
Magic paved the way on so many business and cultural fronts in the world, he truly is a hero!"
Christina E. Mikhelashvili
Senior specialist, clinical research